Calico Hunter
by Scotty - www.smallboats.com
Click HERE for secure order form
This 9 foot by 33-inch rowboat was built from two partial sheets of plywood that were lying around one rainy day. She was the first in my mutually exclusive line of "Classic Scrappies". When I built this one, I was really just foolin' around. Out of the blue this guy calls me up and tells me that he has been waiting 9 years for a moor at South Cove, and now he needs a Dingy for the rack or they will pass it along to someone else. So I tell this guy I have a "Classic Scrappie"...he notes that he may have heard of those before, I laugh and tell him he probably had not but that he should come on up and take a look anyway. I never even got to let the glue dry; he painted it and put it proudly on the rack that weekend.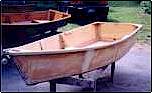 Like I said, I was just foolin' around when I built this one. We swept a batten along the sheer line just to give it a little character. All of the wood for this boat came from 2 partial sheets of plywood. The seat top was cut from the scrap of the bulkhead...this is when these boats took on the name "Scrappies". With only one seat she was really destined to be a rack tender. I still get reports of the owner trucking it around showing it off to his friends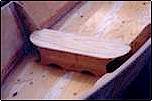 The small photos above and to the right are of the very first "Classic Scrappie"... for me that is. Folks like Dynamite Payson and Earle Brockway have been building these boats for years...they are not hard and they don't take to long. I think every modern builder has built some form of "Scrappie" somewhere along the line.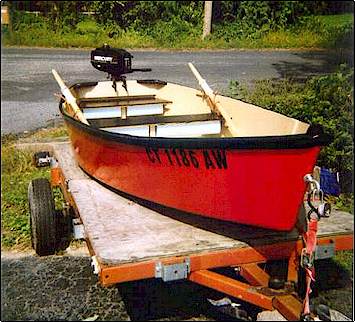 Here is a photo of the completed "Scrappie" no. 2, "Kid Charlemagne".
This boat has a 1/2" bottom, 3/8" sides and 2 layers of fiberglass tape embedded with epoxy on all seams, inside and out. She is a tough little boat and with the full-length keel/dragstrip, she rows beautifully. This boat is a real kick.. I have had her out many times on the River with my 6-year-old; we had a blast and stayed dry even though we were surrounded by larger boats...another winner in my book. The kit and plans are now available for a lightweight version of this boat.
This hull has proven to be excellent as a crabbing skiff or just general messin' about boat. Pictured below is the "Classic Scrappie" number 3, I call this one "Calico Hunter". Not a real "Scrappie", she is a little more high tech... this one is built of lightweight 5.5MM Occume plywood and the bottom is re-enforced with fiberglass cloth and epoxy resin. A complete kit for this boat is now available as well as plans.
Click here to find out more about these kits and plans

The next Scrappie I built was built for me and I call him the Stanley Sie...Stanley was a good friend of mine who left us way too early. Like Stan, the Stanley Sie is just a big tough pile of scrap wood. Like the other Scrappies it was made up from some left over Plywood, Cherry for the seats, some Ash here and there, and originally sporting a blunt black finish as that was the paint that was available at the time. (we later painted him green for the filming of a television commercial). But like Stanley, the Stanley Sie will always get you home and never.....ever..... let you down
Limited time special! Plans for "Calico Hunter" are now available fully detailed on four 17" X 22" blueprints with complete instructions.
For a limited time these plans are available for $25.00
SmallBoats.com / IDesigns, LLC
55 Westbrook Road - P.O. Box 303 - Centerbrook, CT 06409
860-767-3473