Bosch Work Site Power Supply/Stereo Radio/CD & MP3 player/Battery Charger/cell phone charger and Take along stereo for your boat with excellent sound quality,
or
The Bosch Power Box
OK the title is long but it even does more than that! I love music of just about any type and I love to play music on my Guitar almost as much as sailing boats, building boats and testing tools. Ever since I was injured I wanted t and finally started trying to learn to play Mandolin as well. My wife has a collection of CD's that go on forever and she is a much better musician than I am even though she hates playing in front of people because she had to play special music in church when she was young but I digress completely.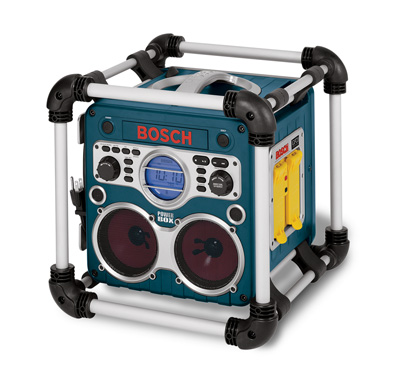 You should be reading this article on a computer and the geniuses that invent software have figured how to take a whole album of say fifteen songs and magically shrink them down so that you can fit ten albums (many hours of listening) onto one CD by making them encrypted into MP3 files. You ask what this has to do with boat building and sailing? Bosch has built a Power Box unit with all the features above and an astonishing CD/MP3 player built in with an AM FM radio. You can place one CD that you copied of all the songs you like and press random play and still not hear the same song twice in ten hours!
That is while you have all your power tools on because this machine can play loudly above all the tools or softly as you sail your boat along a moonlit bay with love songs for your sweetheart who is sitting next to you. It can use regular Bosch batteries from Bosch cordless power tools to run the radio and CD remotely. Or you can plug in four extensions all with Ground Fault Interruption Circuits so if your standing in a puddle of water holding an ungrounded tool it will not shock you to death. Don't laugh, a very good sailing buddy of mine watched in horror as his mother electrocuted herself and died the same way in front of him as a very young man. That woman was a great fisherman and boater and one mistake can send a family to a place that years can only repair
If you bought the power supply alone you would pay near $120 dollars from a competitor. You would pay an extra 40 dollars for just a radio added on. This Bosch unit is built to take bumps and in a recent demonstration some lucky magazine journalist got to pick one of the units up and throw it across the Bosch booth at a tool show without the CD skipping one tiny bit. Yes it is a shock proof CD so if you are so inclined you could sail into a hurricane on your boat flailing around with Wagner's Flight Of The Valkyrie's playing and never miss a note. Yes you can drop this thing from four feet off the ground and let it bounce to a stop (accidents happen) And the CD will not skip fade or jump to another track.
I don't know about you but I have knocked over many glue bottles, jars of turpentine, power supplies and even my projects just trying to get the last inch of a board cut by pulling just a little more on the power cord to get some slack. Yes, I am a klutz at times in the shop and I try to be neat but at times my shop is a mess. Another nice feature is that this charger will charge all the Bosch power tool batteries of any power range. So if you have a 24 volt jig saw and an 18 volt drill driver you can still use the same charger, a very nice feature. Some nice accessory Huh? It is made for contractor use but I know it goes great in any large or small boat building shop. So whether you like to listen to Rush or the weather or music you don't have to get a separate unit to plug in.
For the last couple of months I have been using an extension cord to power my shop (big 8 gauge extension cord) and this unit to run all of my tools through various other wiring extensions in the shop with multiple plug-ins. I had to use the main power into the shop so I could convert my power to 220 for a new table saw I am reviewing and it is a dandy saw at a diminutive price. But best of all I can plug in my cell phone or listen to hours of my favorite music and run every 110 volt tool from the same source without any fear of burning down my temporary shop.
I even bought one of those 1000 watt converters that I can fit under the hood of my Cummins Diesel truck with two batteries and run three or four tools in the middle of nowhere with this Bosch unit and the circuit breakers on it will pop before the fuses on the AC converter. My next cruiser will have a bigger converter and more batteries with solar and wind power and I will have my stereo that I can still play on windless nights because it runs on Bosch batteries.
Bosch cordless power tools are at the pinnacle cordless tool construction. They deliver very long service, in fact they are very popular contractor cordless tools so Bosch invented a charger and power supply system big enough to run a job site or your shop. But they did it with outstanding quality and supreme results. You have heard advertisements of the Bose Wave radio on your TV or radio station but this Bosch radio / CD unit costs less and sounds even better in my opinion than the wave radio. I dare Bose to throw their wave radio with a CD playing in it across the room and see if it still plays. This battery charger can quick charge all of the Bosch cordless batteries plus you can hook up other companies chargers to it also through the outlet system and charge every cordless tool you have in one place. Shock proof, dust proof, water resistant, although I recommend never placing this unit or any electric device in water or rain while trying to work. Your life is just too valuable to take chances.
I have used this unit now for over four months of testing and have had absolutely no problems with it. Don't forget Bosch makes the most accurate cordless miter saw ever built and their new power drill driver can be dropped several stories onto concrete and still work. They have figured out how to keep me from ruining all my tools from my clumsiness, a feat I thought would not come in my lifetime.
For those of you who can get by without the CD player they also make a unit that has just the shock proof radio with all the other features and no CD player. But in my opinion that would be a total waste of the great sound that comes from digital music and the MP3 format that can convert your entire CD collection into just a few CD's or maybe a hundred if your like me. I know my wife has heard me practice my guitar enough that if we were out on the boat she would rather listen to the CD player than one of my songs on the guitar. I'll just have to learn some more songs and not let her listen to me practice. With my arthritis it just makes my hands work better by practicing. I enjoy just about anything made of wood and I thing any type of instrument is a work of art. The Bosch charger would work equally as well in a luthier shop as a boat shop for those of you that also build musical instruments.
Next time you are at your local tool store take a look at this new Bosch unit closely and ask them to turn it on so you can hear it's great sound. Look at all the features. DeWalt, Makita or any other big name brand contractor tool company has nothing this good with this many features for your work shop or your boat with battery power. I sure wont leave this power system on the dock when I sail on the big boat I am planning on building. To have a stereo and a tool charger with 4 way GFCI a plug in to charge your cell phone like a cigarette lighter style and another that is a female plug type that fits my scanner very well ( I am a scanner junkie also living out in the sticks like I do).
The first thing you notice about this Power Box is that it is surrounded by tubing and heavy bumpers at each corner. Then you see that there are rubber straps coming from the tubing that hold the Power Box isolated from the tubing. It is very reminiscent of a high explosives carrier that stops excess vibration but on a smaller scale. Then you notice the retro boom box motif with guard rails over the digital LCD screen. Yes it does have digital tuning unlike some competitors radio charger units. O one side the 110 power cord has handy holders at four corners to wrap the cord and the plug like most new plugs clips onto the power wire to make it handy to store without walking and tripping on a loose cord. The back has a covered compartment where the charging takes place and the othe side has the GFCi plugs made of bright yello plastic so that you can see them very well. I like to wrap the cord around the tube that surrounds the power supply then plug it into the socket so that it cannot be pulled loose accidentally. The bottom of the unit has directions and warnings while the top has a handy carrying handles. The only other side left has a fuse holder for the plug adapter socket and the extra 12 volt plug socket. All in all a well thought out tool great sound and many extras you will not find from other high end brands. By the time you could buy all the components to make your own version it would have to be held on a four by eight foot sheet of plywood and cost twice the amount this unit costs for the quality of what you get in a compact 21 pound easy to carry all in one unit.
I also own a Grundig short wave wind up radio with a light and a Free Play wind up and solar powered radio. Both of them only have manual tuning My top of the line Sangean short wave radio I would be hesitant to place on a boat but it does ave digital tuning and more features than have figured out how to use. A sail boat is perfect for a shortwave radio and I wish the next version of the Bosch power box had the short wave feature but not many other people would probably want that. I also found out by hooking up y solar charger to the in plug in on the Bosch unit that it will run the radio if you do not have a charged battery. I have not tried to run more power through that circuit because it has a very small fuse and might blow something up. I do have a small ( very small) 300 watt Honda generator.
When I did Photography for weddings in parks I would run my strobe lights with the generator and it is so small with a twelve volt and 110 charger that I can carry it on my boat with my Minkota trolling motor and charge the batteries as I use the motor so I can get home. That way I can use the power system to recharge all my cordless tools on the boat and still have a gasoline powered source for twelve volts. They stopped making those chargers about fifteen years ago and they have 1000 watt chargers that are almost the same size with the 12 volt feature also. They are about the same price and that hurts. I did photography as a hobby/side job so I could buy more lenses for my nature photography The good thing is that the batteries charge with my small Honda generator hooked to the Bosch unit.
So now that springis finally here and we are rady to go forth and build new boats and maybe we are also thinking about adding to your new tool collection look at the great Bosch cordless tool line up and even if you do not own a Bosch cordless tool this new Bosch Power Box is a huge improvement in job site and boat work shop power outlets with great CD/radio sound. I forgot to mention that it also has a plug in wire antenna for FM so you can run it up your wall or where ever you desire and use the supplied Velcro loop to attach it where you get the best reception. I have a metal shop and I still had perfect reception with the antenna lying on the work bench.
I would not steer you wrong, this is a fantastic unit that is light years ahead of anything else out there. Music makes me think and work harder so let there be music and power to run all the tools you have.
From the tool crib,
John