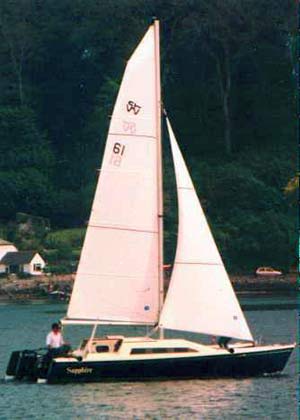 A 24 foot classic micro
Specifications:

cold moulded or strip plank round bilge hulls,
ply decks and topsides

LENGTH O.A. 7.3m
LENGTH W.L. .6.65m
BEAM O.A. 4.3m (5.3m on Turbo version)
DISPL (empty) 0.5T
DISPL (loaded) 0.85T
HEADROOM 1.35m
DRAFT 0.25 - 0.95m
SAIL AREA 25 sq. m (34sq m on Turbo version)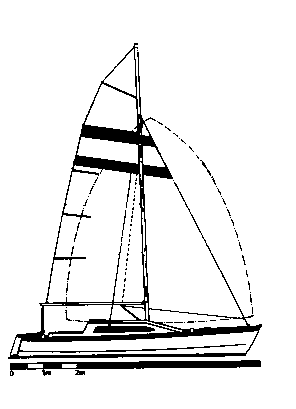 Standard rig above, Turbo rig below (for experienced sailors)
A F1 Rig is also available with the same total area as the standard rig, but a smaller jib and larger mainsail.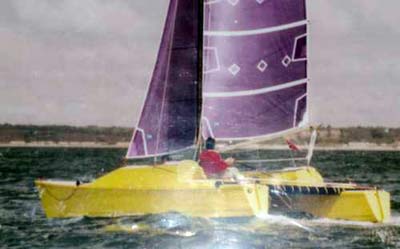 This photo shows my 1992 Strider with a F1 rig. The photo was taken from a Dragonfly 8m whose owner told me he was reaching at 18 knots. We sailed straight through his lee, much to his disgust/surprise.
In May 2008 I received the following email from a Strider Turbo sailor in Zimbabwe
"We had great winds. All just right for Cosmos who has never gone as well ~~~~~ She had no problem with the two Farrier 27's In one race we won by an hour!! that was in a race of 200 min!!"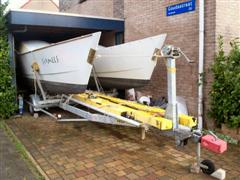 STRIDER is the most popular of our micros as it offers a good compromise between speed, accommodation and low cost. It is available as a g.r.p. production boat while plans for wood construction are also available.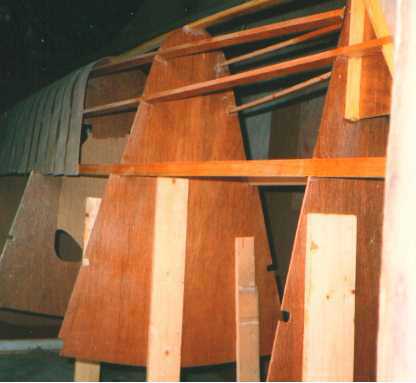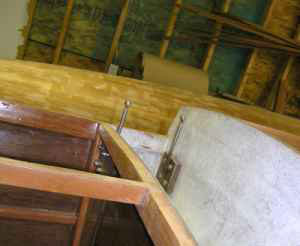 Crossbeam bolts, as used on all our demountable designs, 4 per beambox
Striders are very good sea boats and have competed successfully in tough offshore races. A racing version, the Turbo, with wider beam, increased rig size, rotating mast etc. is available for those who aim to race at the highest level or sail in a very light wind area, see lower drawing on left.
Interior layout as on Shadow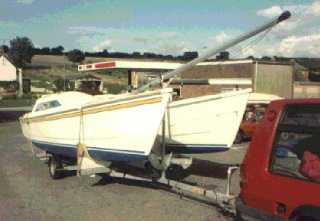 Striders are the classic trailable boat, fitting snugly behind a family saloon car.
"Once on the water she provides exciting sailing as well as giving a safe ride for inshore cruising weekends or holidays for a young family"
Yachting Monthly
"Strider is a fast, light, exhilarating day sailer, great fun to sail"
Yachting World, October
"Builders of this racer/cruiser should produce a craft that will give them a great deal of pleasure and very little grief"
Dick Newick in Wooden Boat, November 1986
"What great racing with four Striders on the water & Farrier 27 which we beat easily, and now Tim O'Leary has launched his new Farrier that he scaled up 15% and the sails 20% up! It went well, but we still beat him over 7 races."
from a race report by a Zimbabwe Strider sailor
Here is a short Youtube video, taken from the Multihull Sailors Have More Fun! video
Materials List:
PLYWOOD

Hull skins keel-stringer2 3 mm ply 11 sheets
topsides 5 or 6 mm ply 6 sheets
Bulkheads 6 mm ply 3 sheets
Daggerboard and beamboxes 6 mm ply 2 sheets
12 mm ply 1/2 sheet
Decking 5 or 6 mm ply 8 sheets
Rudders & daggerboards 12 mm ply 2 sheets
Platform 9 mm ply 1 sheet
Beams 6 mm ply 3 sheets
Use best quality gaboon throughout. Note if building the racing version then ply thickness on decks & topsides can be reduced to 4 mm, but decks must then be sheathed.

18 mm ply can be made from 2 layers of 9 mm and 12 mm ply from 2 layers of 6 mm ply.
TIMBER: Use douglas fir, sitka spruce, yellow cedar or similar unless noted
Note sizes are nominal and should be "planed all round"(PAR) ie final

size of 1 " x 1 " = 20 x 20mm
1 " x 1 " 70m
1 1/2" x 3/4" 120m
2" x 1" 125m
1 1/2" x 1 1/2" 12m
3" x 1 1/2" 2m
3" x 3/4" 10m
2" x 2" 3m
3" x 1" 4m
1 1/2" x 3/4" 15m (for outergunwale - hardwood)
2" x 1 1/2" 4 off 4100mm plus 15m (beams)
1 " x 1 1/2" 8 off 4100mm plus 10m (beams)
4" x 1" 3m (inner stems)
4" x 2" 2m (outer stems use cedar, can be laminated from smaller pieces)
GLUE:

minimum 10 kg epoxy and 20 kg resorcinol or 5 kg polyurethene glue eg Balcotan



GLASS

1 sq m 600 g Woven Roving or biaxial
15 metres 100 mm wide glass tape
15 sq m minimum of 300 g glass cloth + 5 kg epoxy. 20 sq m extra cloth is required if decks are sheathed. NB glass must be compatible with epoxy



FILLERS

500 g collodial silica & 1000 g Microballoons (min
---
More building photos - Page 1 - Page 2 - Page 3 - Page 4
Sailing photos - Page 1 - Page 2 - Page 3 - Page 4 - Page 5 - Page 6
*****