---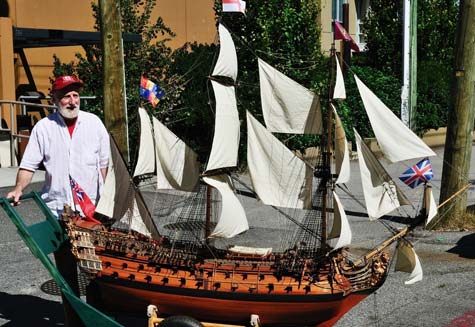 Victor Yancovitch with his Royal William
She was built in Portsmouth, England in the reign of whosoever it was that reigned in 1719 and launched as the Royal William. And so it came to pass some two hundred and ninety two years later that Victor Yancovitch of Vancouver in Canada who had owned a couple of vegetarian restaurants, and who played the piano at the Pan Pacific Hotel for 18 years, set about and over a period of six years built a quite stunning eight feet long model based on the original vessel.
A modest man, a talented pianist who plays by ear (the talent bit not by his own admission!) who insisted to the writer that he is really just a `nobody' who built his RC model of the ship by eye. Victor stresses that it is not an accurate build, `rather an artistic rendition to create the romance and atmosphere of how the ship may have appeared.'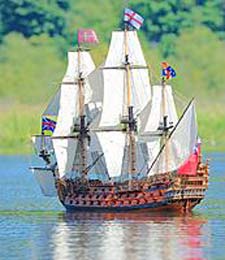 The vessel all ready to sail
| | |
| --- | --- |
| An absolute wealth of detail | The lady surveys the progress |
| | |
| --- | --- |
| A novel method of transport | A peak at a `Royal behind' |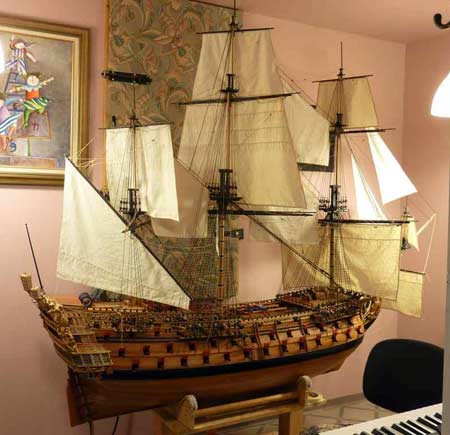 Pride of place for the ship
Now this scribbler (Aye!) as most know is no `techernical' minded guy – when my car stops I call the Automobile Association, same way as when my computer ceases to work I call a `techernicanician'. I simply don't gp down those nautically speaking `rough and uncharted passages over water!'
This is a fine period model by an ultra modest Canadian and those who use what is a great website (RC Models.com) can read Victors extensive `threads' that tell pretty well all on the technical aspects of what was a long building period, with photos I have selected that were taken by him along the `journey of build.'
The ship built largely of pear and ebony woods is fitted with radio, one servo for the yards on the foremast, one for the rudder and another to set off 8 cannons which are located four on each side, and to operate a switch for the lights on the transom. The model weighs some 40 pounds but Victor had to add 80 pounds of lead to bring her down to the waterline so he made 10 lead weights which he has to load aboard when the ship is in the water each time
Transport to a sailing lake meant he had to transport the Royal William in a rented van to Burnaby lake in Vancouver. He and his wife live in a small batchelor pad and with a model that size, working on it was at times difficult, and then storing it (in a rented garage) adding to the difficulty so in the future he may have to resort to selling the model.
I should briefly tell you about the real boat but alas a photo was impossible. I don't know where I was when she was launched but I was not there in Portsmouth to be able to come up with a photograph. HMS Royal William was a 100 gun British Man-of-War with the Royal Navy and served in the Seven Years War against the French, and also served as the flagship for General Wolfe in the 1760 battle for Quebec.
Because of the large size of the ship I commend Victor Yancovitch on a difficult job well done. The bigger the boat the heavier it is, the better it looks on the water the harder it is to transport, launch and retrieve, then add the problem of where to keep it? The older we all get (Victor is now 70) the less conducive to solving massive problems we become.
---
Murray White's Black Cat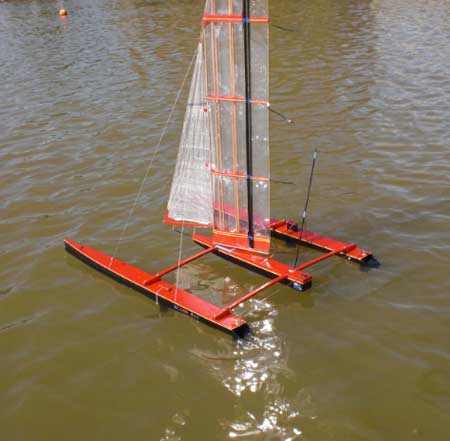 New Zealander Murray White's catamaran on the water
There (directly above) I have published an image of one of those catamarans that some of our New Zealand Ancient Mariners are saying will revolutionise sailing, this one an experimental design and build by Murray White.
I can't say that they do anything for me but we are all different in our likes and dislikes and who knows -they may well flip my switch one day and `turn me on!' (Photos by Richard Gross)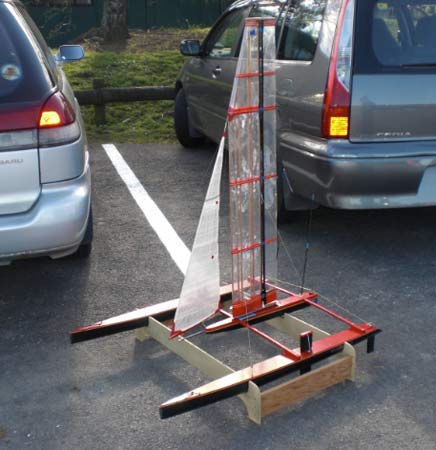 Pre-launch in the carpark.
---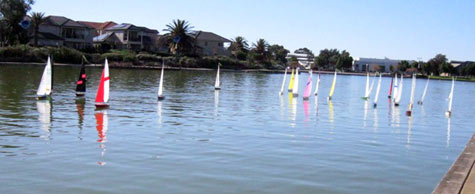 A sailing of the club fleet
Mawson Lakes in South Australia is a suburb and fairly new area of residential development. The Sir Douglas Mawson lake is home waters to The Mawson Lakes Model Yacht Club whose members mainly sail `Mawson Lakes 45' boats, the design taken from a 1970's plan by the late Vic Smeed which was a 30" model scaled up by the club to give an overall length of 45".
The club has a website and their set out `Spirit of Participation' in their opening regatta held in October 2010 makes an interesting quote. `The atmosphere to prevail is one of friendly, courteous, respectful, patient and sportsmanlike participation befitting a community event!'
I don't believe that the mentioned club has sole use of the sailing area for I have been sent photos by a friend that shows other sailing boats being sailed and mainly windled there that are not all ML 45 sailboats.
Well it appears to be a big lake so why not? Model sailboating is an option for everyone to enjoy with whatever boats take their fancy.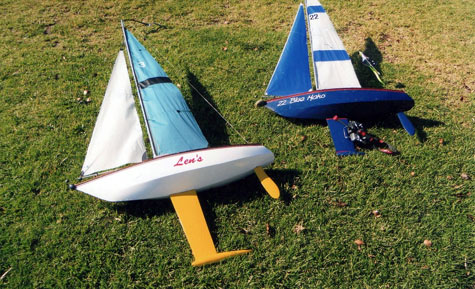 Two Mawson Lake 45's
| | |
| --- | --- |
| Alan Rudd's fine looking Trimaran Pegasus | Bob Phillips 10 Rater |




Above: Line up of entrants for a MLMYC event

Left: Bidding Blue Mako safe voyage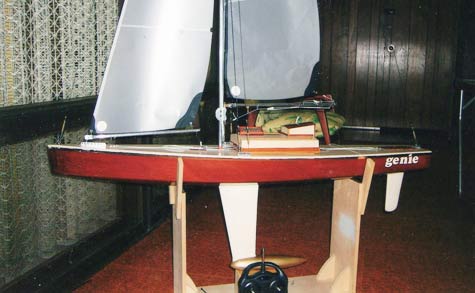 Genie owned and upgraded by Ron Bennetts
My friend of some years, Ron Bennetts, a marine modelmaker and architectural draftsman of Glenalta in South Australia adds to the Mawson Lakes story, for he and other friends also sail on the waters of the lake from which in June last year, the South Australia police dive squad recovered eighteen sunken model boats. Ron also restores models for people and also for himself. The Manson Lakes 45 Blue Mako above he worked on was sold to Bob Goldie who coveted it from the first time he saw it sail.
---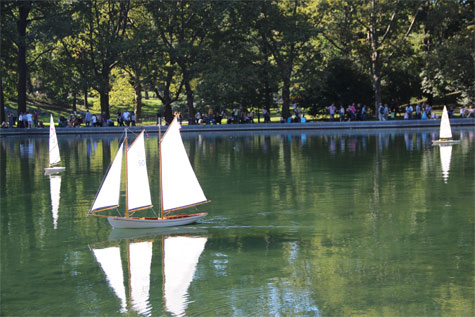 Dave Querin of Ohio, USA while on a trip to New York, took his new Malabar schooner for a sail on the lake in Central Park where the boat is seen in the photo. Not a great deal of wind but sufficient to have the schooner ghost along to the delight of pondsiders, and a parking charge for the car of $50 US for a two hour span of time.! `Welcome to the Big Apple!
---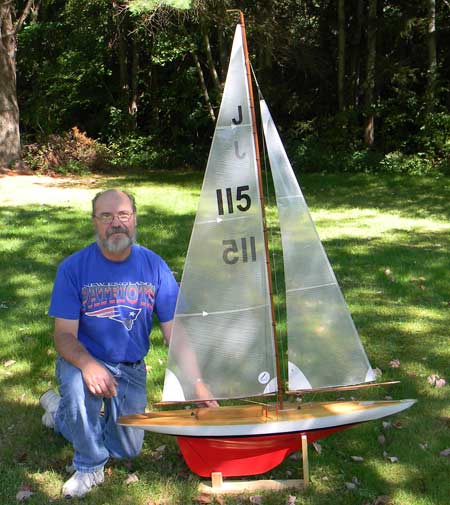 Hans Berger with his Canterbury J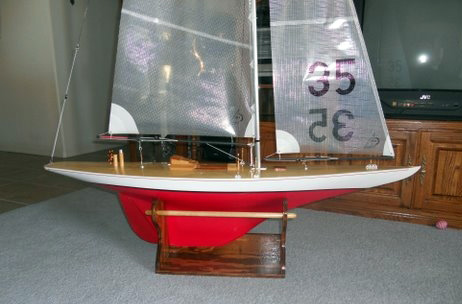 John Hanks III also sails Rainbow, a Canterbury J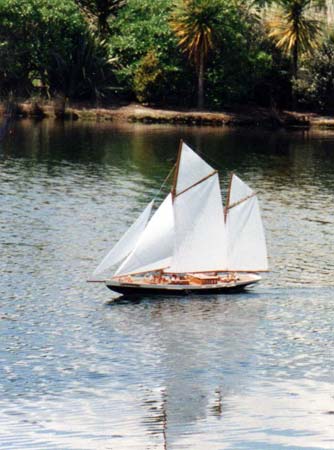 The writer's Canterbury J-hulled classic ketch Marigold
There are J Class boats and there are J Class boats, and the growing in popularity Canterbury J Class models as sailed by the members of the Christchurch (New Zealand) Model Yacht Club well over a century in years since formation, are beautiful model yachts produced on the lines of the famous J Class yachts. 48" long, the boats have now found their way to parts of the USA where Hans Berger builds to order, offers hulls and advice and is an enthusiastic `promoter' of the marque there. If you are interested email Hans at hansberger@comcast.net The class is now an accepted Official Class by the American Model Yachting Association.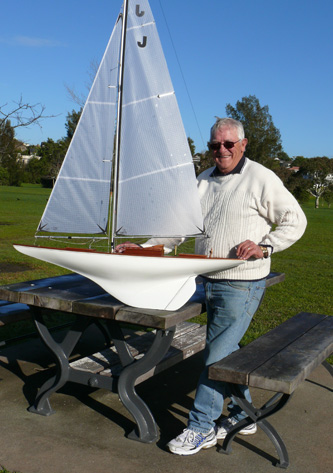 Canterbury J Christine with owner
Ron Rule demonstrating his dance step
| | |
| --- | --- |
| Happy US owner with his Canterbury J | A stunning J on the water at Paderewski |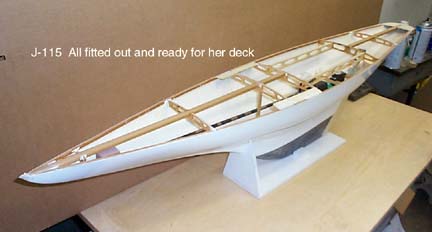 And a new one ready for decking
Then there are the larger J Class model yachts mainly sailed and raced in selected area of America. They are huge in size and requiring two persons to launch and retrieve from the water, magnificent model yachts that have enjoyed great popularity and have a sound base of many dedicated followers in the races that are held for them each year. Whereas in the smaller boat class owners don't appear to give their boats names of the famous J boats, in the larger model J Class, there are boats with names such as Ranger, Shamrock V, Rainbow, Velsheda, Enterprise and Yankee in the fleet.
The real J Class boats activity goes back to the years 1851-1928 and has early roots in the America's Cup. The war years saw a decline in the class which was to be expected. Only 10 boats conforming to the J Class rule were built between 1930 and 1937.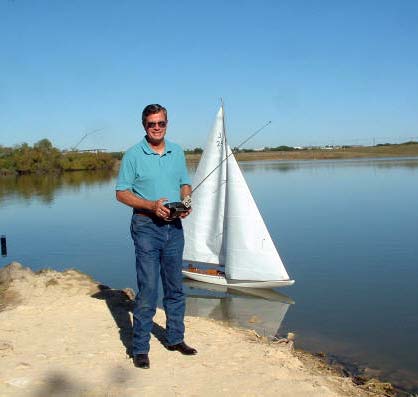 John Hanks III with his J24 Ranger
John Hanks III of Nevada who is the AMYA National J Class Secretary built and sails J24 Ranger in the 1/16th scale class which was formed in the US in 1974. Over 200 are registered according to John but only about fifty are currently active, most of the inactive boats sitting in basements, garages or storage sheds sadly gathering dust and some perhaps, wasting away.
I can't remember who it was that wrote: `Enthusiasm is quick to ignite, equally quick to fade away'.
These boats have hulls 7' to 8 ½' long and carry 3,000 to 4,000 square inches of sail on masts eight to nine and a half feet on deck. They are huge, often requiring a two man lift into and out of the water and rigged they weigh between 75 and 80 lbs. Because of their size they require much storage space, but on the positive side when under sail on the water they are examples of the absolute crème de la crème of all classes available and accepted by the American Model Yachting Association. If you like them big, these are the boats for you.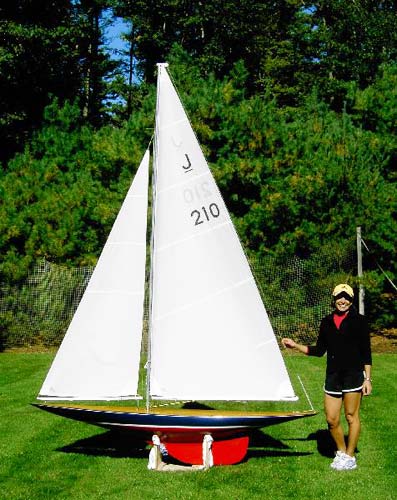 Bob Sennott's Ranger shows how large these boats are
| | |
| --- | --- |
| Bob Eger's Shamrock nearest the camera | Bob Sennott's other J boat Whirlwind |

At 142 feet Lionheart is the longest J Class in existence
Another J Class boat, Lionheart made its appearance after being built in the Netherlands. A joint design of the late Olin Stephens and Starling Burgess and anyone desiring to have one built can contact Milton Thrasher in Sarasota, Florida who is able to produce laser-cut frames for the boat. His email is mthrasher@verizon.net Another hull source is Larry Ludwig who is also the AMYA webmaster for the J Class and who supplies really beautiful fiberglass J boat hulls made by Bob Sennott. His email is larry@ludwigrcyachts.com

Milton & Nancy Thrasher
In closing, let me suggest to you that you go the website below where a free link is provided, and browse at leisure on the various offerings of interest to model yacht builders in the way of laser-cut parts for a wide range of model yachts and boats in different sizes.
Milton Thrasher and I communicated quite extensively some years back when I was producing my Windling World model yachting magazine and he was producing his publication, Bell Bottom News.
I think that most will be impressed with what they find, and you can email www.angelfire.com/fl4/mft
---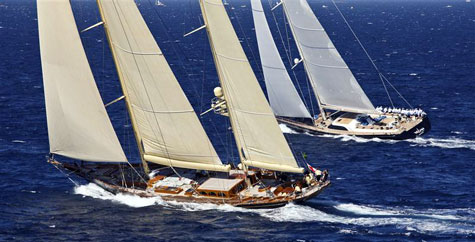 Super Maxis Nilaya and Hetairos in Porto
Cervo Italy event – Photo by Rolex/Carlo Borlenghi
-30-