Yet another Crystal River Boat Builders Boat
This time it's a 16 foot punt. It's planked lengthwise with tar between the planks. There will be battens over the seams on the inside. Of course she's been build only using hand tools. There will be three plank seats, with room at the bow and stern to stand. The stern transom is notched for a sculling oar, but we think she'll be pushed along with a pole more often than not.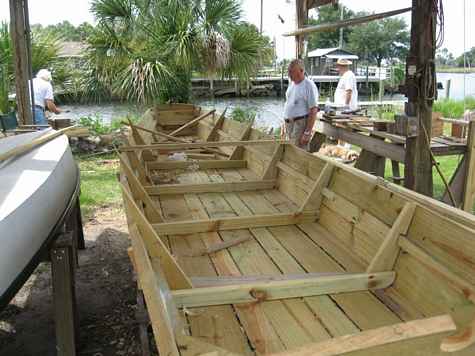 We didn't use any plans or offsets, just one old form amidships from another build and some idea of how we wanted her to look!
Bill Whalen
Crystal River Boat Builders
Crystal River FLA
---
Sailing
....For those who don't want the complications of trailer sailing there is always car top sailing.....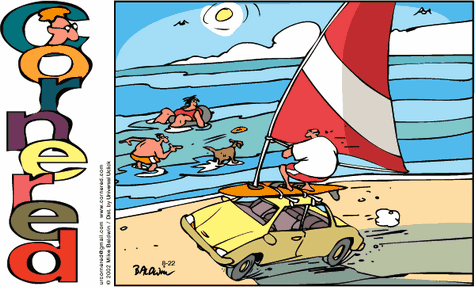 J Panter
---
2nd Annual Shop Talk & Messabout at Clint Chase Boatbuilder
Invitation to Fall Shop Talk & Messabout in Portland, Maine
At Clint Chase Boatbuilder in Portland, Maine

Please join me for the 2nd annual – "It's a tradition now" – shop talk and messabout. This year we'll welcome our guest designer/builder Walter Wales. Also with him will be WoodenBoat's Associate Editor Karen Wales (Walter's wife) and renowned illustrator Sam Manning and his wife Susan.
Walter is an acknowledged expert on the Marblehead Gunning Dory originally built by Will Chamberlain of Marblehead, Massachusetts. Sam illustrated John Gardner's "Dory Book". Walter and Karen will bring their Gunning Dory REPUBLICAN, built in 1960 by Capt Gerald Smith from Will Chamberlain's molds.
Walter and Sam will talk about the history, design, construction, and use of this famous dory type. In addition to REPUBLICAN we'll have a couple other dories on site to look at and discuss.
You can read about the Marblehead Gunning Dory in John Gardner's books, "The Dory Book" and "Wooden Boats to Build and Use", and stay tuned to Clint's Blog in October.
Bring a boat because afterward we'll head to East End for a sailing and rowing Messabout. Snacks and drinks provided in the shop, but bring a lunch. This will be a fun and informal, so you can even eat your lunch while our guests speak!
WHAT: 2nd Annual Shop Talk & Messabout. Please bring a boat.
WHERE: 25 Deblois Street Portland, Maine. Deblois is off Brighton Avenue. Messabout at East End Beach, Portland.
WHEN: Saturday, Oct 23rd 11am. Messabout after lunch. Sunday rain date (stay posted on my blog for weather update Clint Chase Boatbuilder Blog)
MAP: Map to Clint's Shop
FMI: Email me at clintchase@maine.rr.com
---
Rødgrød med Fløde
Just wanted to say that I've finished this lovely little skiff, and owe a lot of my success to your generous and patient help, as well as to the System Three products you provided. They made the construction and the finishing much simpler and more understandable for a first-time builder. Here are a couple of just-done trailer photos, but I will also send some of our first outing this week. We're leaving in the morning for Minnesota's Arrowhead Region and will be taking her out to one of our favorite small lakes for a first row. (Albeit a cool one, it would appear!)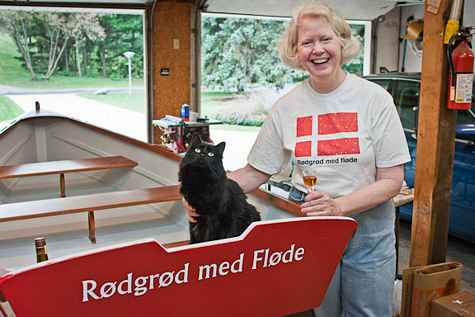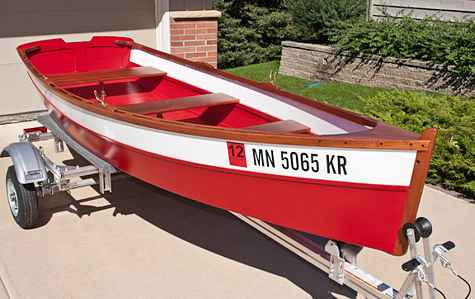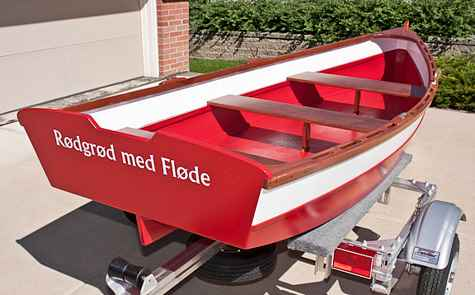 The name of the boat is that of a traditional Danish dessert dish – a red berry pudding with a layer of cream on top – hence the paint scheme. It also happens to be the colors of the Danish flag.

Thanks again! More photos will follow, after we see if it floats!

Bob Fogt
---
Larsboat
Attached is a pic of the 19-foot Larsboat. Decks and finishing are all that remain on the main hull.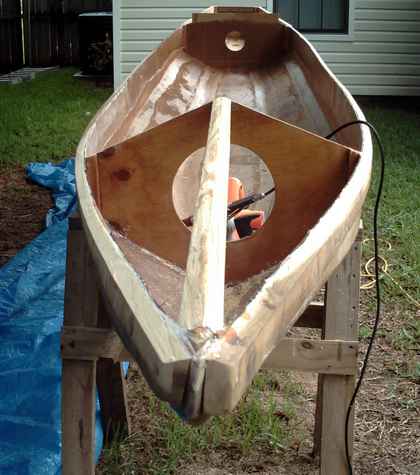 Gary
---
Museum, Carpenter, Sled
Laylah and I stopped by the museum to see what the guys were doing. They specialize on bringing life back to really old beat up boats, I guess you need to cause there aren't any new ones to look at. Laylah had a chat with Doug, you know him from his articles in the "Ash Breeze". Jim is finished with "Carpenter" so we took it out for a builders trial. It needs a little tuning but it should be fine. The weather for the messabout should be perfect. We're expecting to see at least ten sailboats and even more rowboats and kayaks. Wear your swim suits to play on the sand bar on the way to Mar Vista. Laylah's kindergarten class is building model boats for Columbus day so "Peepaw" helped her make one, she did do all of the decorating. This is Helen's sister, Norma Ann. She was with us for part of the trip west. This will really embarrass her but what are sister in laws for anyway? Howard's Texas Sled is getting bigger and bigger. Annie Holmes, the San Diego TSCA chapter mom has a little girl who's in Afghanistan with a State Dept. job to translate. I bet she's one tough cookie to be able to handle those guys. If you don't keep a close eye on them there's no telling where your kids will end up. Stan needed to work on his trailer so he lifted Yeehaw with a single line through the drain plug, a really good idea when you think about it. This is probably the strongest point on the hull.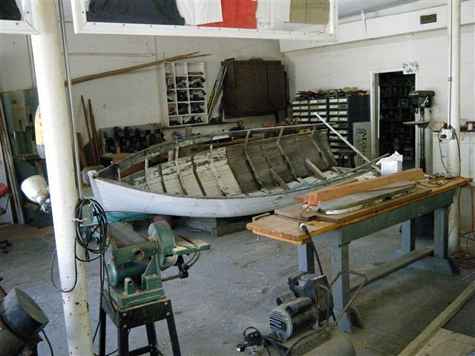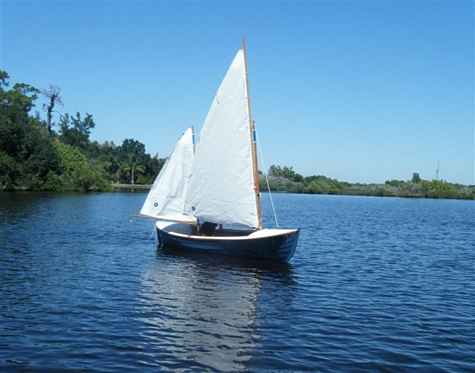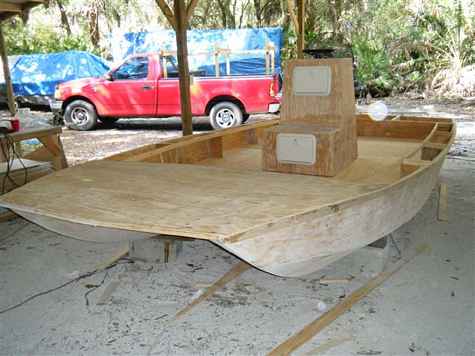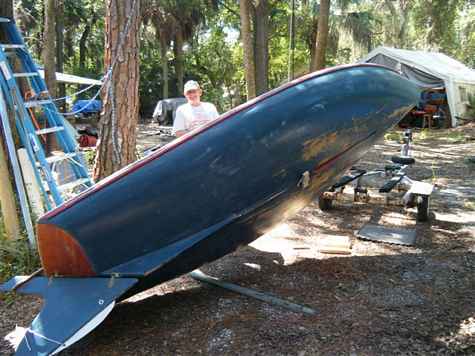 Dave
David Lucas, Lucas Boatworks and Happy Hour Club
(941) 704-6736
---
Latest Photo
Here is a pic of Dolphin my latest design/build project, after I finished up the sail rig and hoisted the sail for the first time last weekend...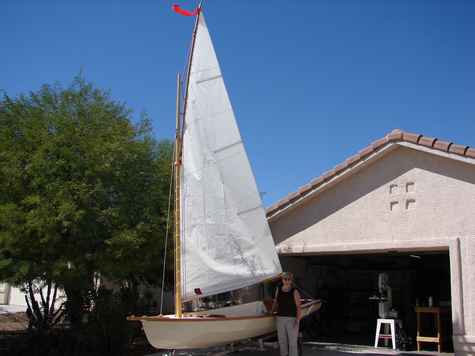 Have a great day,

Bill Bates
---
OceanLED dazzles marine industry with NEW generation of underwater lights: Fort Lauderdale International Boat Show – Booth 795
As the 2010 Boat Show begins, OceanLED, a world leader in the design and manufacture of LED lighting products, has launched a NEW range of underwater lights set to dazzle the global marine industry.

The new Hybrid Series is OceanLED's first high powered metal underwater light to be manufactured with an integrated built-in driver and electronics. Without the need for any external power supplies or driver boxes, the Hybrid can be installed quickly and easily, to dramatically enhance the appearance of any yacht as it takes to the water.

Inspired by OceanLED's renowned interior LIET range, the Hybrid Series is incredibly versatile. It can either be surface mounted onto the hull with a simple 1" hole for the cable, or used as a traditional thru hull light by threading the locking stem onto the rear of the light body. If space is at a premium, the stem can easily be cut to size and re-attached to the light fixture for a customised fit.

Whether relaxing in port, lighting up a midnight cruise or attracting fish offshore, the Hybrid Series is the perfect light for power boats, sport fishers and sail boat enthusiasts. The Hybrid Series features two models with ultra-high light output - the 30i is equal to a 50w Xenon underwater light and the 60i model is equivalent to a 100w Xenon underwater light. Combined with a low power consumption and an exceptionally long LED life of 40,000+ operational hours, it completely eliminates the need for bulb changes.

The Hybrid Series is manufactured using a mixture of top quality Aluminium Bronze (AB2) and a chemically inert Polyacetal blend making it suitable for use on fibreglass, GRP and wooden hulls. It can also be installed on aluminium or steel hulled boats using the Delrin isolation sleeve option. In addition, OceanLED is renowned for using Tritonium glass. These unique glass lenses have been specifically designed by OceanLED and Tritonium Optical Technologies (a research laboratory specialising in optical systems) to inhibit barnacle build up and ensure that the polymer light lens cannot be scratched like other polycarbonate and untreated glass lenses on competing underwater lights.


The first two models to be introduced to the Hybrid Series are the Hybrid 30i (MSRP $1099, £499, €599) and the Hybrid 60i ($1599, £749, €899). Both are available in ultra white, midnight blue or sea green LEDs.
For all US enquiries please contact OceanLED at +11 (0) 954-523-2250, e-mail info@oceanled.com <mailto:info@oceanled.com> or visit www.oceanled.com <https://www.oceanled.com>

For European enquiries please contact OceanLED at +44 (0) 1455 637505, e-mail info@oceanled.com <mailto:info@oceanled.com> or visit www.oceanled.com <https://www.oceanled.com>

For more information please contact OceanLED at 954-523-2250, e-mail info@oceanled.com <mailto:info@oceanled.com> or visit www.oceanled.com <https://www.oceanled.com>
---
Lutra Laker
Here is a picture of my Lutra Laker as of today. I still have to make a CD of all my construction pictures for David Nichols.
Steve
---
Norfolk Island Sharpie
Laurie Edmonds in Wauchope is also building an NIS 26. Has recently turned her over (with 600kg of ballast fitted) singlehandedly with an amazing steel bar fastened to the bottom and is busy fitting out the interior. I have attached a photo to give you an idea what I mean.

All the best
Peter
---
The Royal Thames Mansura Trophy, in association with Bosch Engineering GmbH, announces judges for 2010 award
The judges for the 2010 Royal Thames Mansura Trophy, in association with Bosch Engineering GmbH, have been announced.
Established by the Royal Thames Yacht Club in 2007, the Mansura Trophy has become the most prestigious international maritime award for ecology in helping encourage marine companies to develop new forms of hybrid power. Eligible vessels must use at least two independent sources of propulsive power, and the final drive system must be electrical. For full details of the award, the rules for entry, and qualification dates visit www.mansuratrophy.com
The judges have officially been announced as:
David J Arnold, a master mariner who has been Chief Executive of a succession of companies in the fields of engineering and technology. He also has many years experience in sailboat racing, both as a competitor and race officer.

Derek Bernard, Chairman of Transmission Systems Ltd. Derek was a judge in the UK nation-wide Toshiba "Year of Innovation" competition and has been a senior engineering executive in numerous engineering companies.

David Elson, Director of Member Support Services for the British Marine Federation. He is also the Chairman of the BSI Large Yacht Technical Sub-committee and Chairman of the Superyacht UK Technical Group.

Kim Hollamby, Chief Executive of the du Pré Group plc, distributors of marine electronic systems. Kim was formerly digital development director for IPC media and has also chaired the DAME awards for HISWA.

Hubert Moeller, Managing Director of Business Development for Bosch Engineering GmbH. Hubert has more than twenty years experience in developing and launching chassis and safety systems at Robert Bosch GmbH.
The 2010 Royal Thames Mansura Trophy has already attracted interest from as far as Thailand, Canada and India. Previous winners include the French-manufactured Lagoon 420 Hybrid sailing catamaran and Coniston Launches from the UK, for the conversion of diesel tourist launches to a solar-powered and generator - supported electric drive system.
Jack Edwards, Chairman of Trustees for the Mansura Trophy, says, "The Trustees have sought from the outset to make the competition truly international and their success can be judged from the presence in the inaugural 2007 competition of very strong entries from Australia and France, which were respectively runner-up and winner that year, as well as and the presence among the 2008 entries of interesting craft from the Netherlands and the USA, the latter winning the Offshore Division Medal."
Mr. Edwards continues, "The main aim in terms of benefit to the competitors is that the winning entries, both of the divisional medals and the overall winner will be featured in detail allowing an exchange of ideas, both in person at the Awards Ceremony and through the contact list available from the Mansura Trophy Secretariat. Thus the causes of pollution reduction and reduced depletion of valuable fossil resources are advanced.
"The generous support of Bosch Engineering GmbH, part of the Bosch Group, this year has raised our profile in the marine industry to a new level and has enabled us to reach even more potential competitors."
While encouraging prototype development, this award is unique in that it recognises real achievement with entrants required to have an operational vessel on the water before the 31st December 2010 to qualify for this year's trophy. Full details of the entry criteria can be found at www.mansuratrophy.com
The 2010 Royal Thames Mansura Trophy, in association with Bosch Engineering GmbH, will be presented at the Royal Thames Yacht Club's prestigious London Clubhouse in May 2011.
---
Annapolis Powerboat Show Invite

See The Boats. Meet The Builder. Have A Drink & A Nibble.
2010 United States Powerboat Show - Annapolis
Thursday, October 14 (Trade/Press/VIP Day)
Land Space 60 at the City Dock - 2 to 6 pm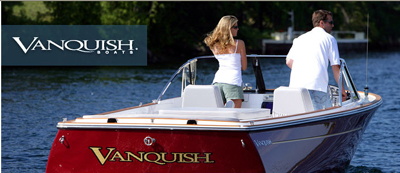 By now you've probably heard about the return of the traditionally-designed, hand-crafted Vanquish runabouts and center consoles.
Vanquish was recently acquired by Morgan Huntley and re-located to Newport, Rhode Island. As far as we know, Morgan is the first graduate of the International Yacht Restoration School to jump into production boatbuilding. (Since graduation he has over 15 years of building experience, including positions with Hinckley and Outer Limits.)
Hope to see you on the 14th. Regrets only to David Pilvelait at Home Port Marine Marketing - david@homeportmarine.com or 1+804.436.9002.
Vanquish Boats - 1 Washington St. - Newport Shipyard - Newport, RI 02840 USA
---
St. Louis Boat & Sportshow Announces 2011 Dates: February 9 - 13
***SAVE THE DATE***
Region's Premier Show For Boaters and Outdoors Enthusiasts Returns to
America's Center and Edward Jones Dome
ST. LOUIS, October 7, 2010 – The 57th annual St. Louis Boat & Sportshow returns February 9-13, 2011 at the America's Center and Edward Jones Dome. This year the show will host hundreds of exhibitors unveiling the newest boats, personal watercraft, boating, hunting and fishing accessories, and outdoor travel destinations.
When: Wednesday – Sunday, February 9 – 13, 2011
Wednesday: 5:00 p.m. – 10:00 p.m.
Thursday: 2:00 p.m. – 10:00 p.m.
Friday: 12:00 p.m. – 10:00 p.m.
Saturday: 10:00 a.m. – 9:00 p.m.
Sunday: 11:00 a.m. – 5:00 p.m.
Where: America's Center and Edward Jones Dome
701 Convention Center Plaza
St. Louis, MO 63101
Admission: $9.00 for adults
FREE for Children 15 years and under
Special Offers: $14.00 2-day pass (good any two days of the show)
E-ticket Family Promotion: Buy 3 tickets online and receive the 4th ticket FREE
NOTE: Advance tickets are available to purchase online at StLouisBoatShow.com
Features: Hundreds of the latest boat models, newest marine products and boating accessories will be featured at the 2011 St. Louis Boat & Sportshow.
Visit StLouisBoatShow.com for complete details.
PRESS NOTE: For press access please visit StLouisBoatShow.com to sign-up for a press badge. Preview photos and b-roll available upon request
About the St. Louis Boat & Sportshow
The 57th annual St. Louis Boat & Sportshow is produced by the National Marine Manufacturers Association (NMMA), the world's largest producer of boat shows. NMMA is the leading association representing the $37.5 billion per year recreational boating industry. NMMA member companies produce more than 80 percent of the boats, engines, trailers, accessories and gear used by boaters and anglers in North America. For more information about the NMMA, visit www.NMMA.org.
---
Brown Industries Trim-Tab Mounted Underwater Lights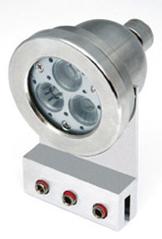 Easy-to-install, self-contained, low-draw underwater LED lights from Brown Industries can be mounted easily on most boats with trim tabs, without compromising the integrity of the hull below the water line. Manufactured from marine 316 stainless steel and electro polished for corrosion resistance. Complete kits include wire, mounting brackets, screws, straps and ties.
More info: www.uwlights.com or call 1+973.684.7720.
Brown Industries - 588 East 31st Street - Paterson, NJ 07513 USA
Add news@homeportmarine.com to your address book to ensure our emails reach your inbox.
Join the Marine Products Network group on LinkedIn
---
The 2nd Annual Indian River Nautical flea Market and Seafood Festival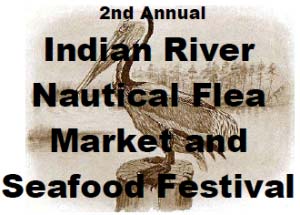 Indian River Fairgrounds
7955 58th Ave
Vero Beach, FL 32967
EMAIL
January 15-16, 2011
9 am to 6 pm Both Days

The 2nd Annual Indian River Nautical flea Market and Seafood Festival, Saturday and Sunday, January 15-16 2011, from 9 a.m. to 6 p.m. at the Indian River Fairgrounds, Vero Beach, Fl. Nautical and Marine Bargains, New and Used Boats, Seafood, Music Fest With Continuous Live Reggie and Island Music. Antique Boat Show and Competition and Boat Auction.
---
World Maritime Day: registration started for the Africa-Europe Challenge
World Maritime Day: registration started for the Hungarian organized yacht race to circumnavigate Africa
26 September 2010, Budapest - For over long millennia, open-water sailing had represented the only way for captains and brave explorers to remote empires. An international fleet is once again to set sail in 2011, though the tournament organized by Hungarians implies the first ever open-entry yacht race to circumnavigate Africa whilst offering cultural and aid programs. Contrary to our ancestors, these yachts symbolize friendship: they will not only carry assistance but offer a common future to help both continents grow. The Africa-Europe Challenge which debuted on international level in the European Parliament, started the registration for the competition on 23th of September on the occasion of World Maritime Day.
The Africa-Europe Challenge is a sailing competition - the first around Africa - with great sport-historian significance because of the cultural program and the charity work attached to the project that will probably attract the most international interest in the 2011-2012 period.
In the József Antall building of the European Parliament the Africa Europe Challenge debuted on international level. The announcement and press conference was opened by Laszló Tőkés EP Vice-President responsible for the sports, educational and cultural duties, followed by the presentation of the project by József Gál and Dr Péter Kondricz, founders and project directors of Africa-Europe Challenge. They presented the goals and all the details and modules of the AEC, and they also confirmed that negotiation had been started on cooperation with the European Broadcasting Union (EBU).
Speeches were given by Louis Michel, Co-president of the ACP-EU Joint Parliamentary Assembly, the patron of the AEC, and Mutombo Tshimuanga France from Congo, President of the Africa Foundation who will coordinate the student program of the AEC aiming the supply of African schools with IT instruments.
Dr Pál Schmitt, President of Hungary, patron of the AEC welcome the founders and the project in letter, while György Wossala, President of the European Sailing Association greeted the race and it's goals in a video message and assured the organizers of his support.
The project directors also announced that on September 23, 2010., the World Maritime Day, the official race registration will be started.
Representatives from African countries also participated the press conference, such as councilor Moncif Cherkaoui from the Kingdom Of Morocco, Norbert-Richard Ibrahim ambassador of the Republic of Madagascar, Abdessalem Hetira ambassador from Tunisia and Cheri Pennington from the Directorate General for Development and others.
As earlier was communicated, the most important, final stage of preparation of the Africa-Europe Challenge, will happen under theHungarian EU Presidency which means significant diplomatic support for the project.
Further information and pictures at: www.africaeuropechallenge.com
Best reagrds,
Eva Sos
Media Coordinator

AFRICA-EUROPE CHALLENGE 2011-2012 project
Office & mails: Alkotas ut. 25. V/3. | Budapest, Hungary | H-1123
Cell: (+36.20) 2.666.799 | Phone & Fax: (+36.1) 787.8342
Personal e-mail: eva.sos@africaeuropechallenge.com
Web: https://www.africaeuropechallenge.com
******